VAST Challenge 2020 is getting a headstart on previous years! Please read below on how to get sample data for one mini-challange and play a part in creating another. This page will be updated as the chllange is completed.
Crowdsourced Data Collection
Thanks for agreeing to take part in the VAST Challenge from the dataset creation side! VAST Challenge 2020 will have the first crowdsourced dataset and we're looking forward to seeing what you come up with and what the other participants do with the content you've provided! As a thank you gift, your team will receive an extension of few days on the entry deadline for the challenge.
Please email vast.challenges@gmail.com to confirm your participation.
When you are done collecting, send an email containing your content to vast.challenges@gmail.com. The deadline for submitting data is December 1, 2019. If your collection is too large for email, please contact us for alternatives.
Goal
The goal is to have a dataset made up of images, sound, and text related to the items in this envelope. A list of items you should be documenting is included in your envelope. Please be as creative as you want with putting objects in different contexts. Make your images look like a social media post or an email to your grandmother. Use your imagination!
In order to ensure the openness of this dataset, it is vital to ensure that there is no personally identifying information included in the collection. This is not a dataset about people.
Images
Take pictures of the objects in different settings and contexts with different combinations of objects from the packet and including random other objects. You could take them to the park, to a restaurant, anywhere! Please feel free to include images/sound/text that don't have any of the objects in your packet. Each record you provide could have as few as one item and as many as all of them. One item might appear in multiple records. Please be sure to document everything in the packet at least once. Some objects might be front and center while others are hidden in the background or partially obscured. Feel free to use different cameras. We'll remove location metadata from all submissions.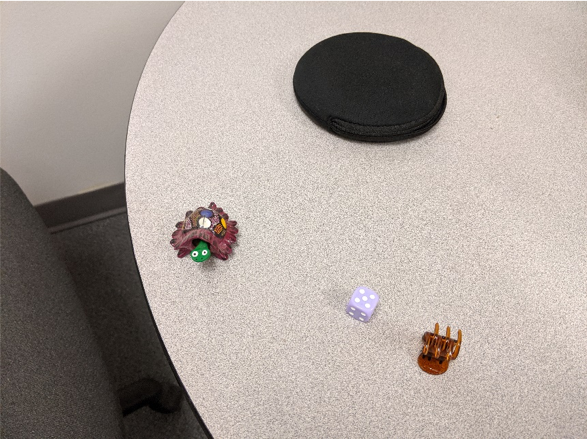 Please do not include faces in your images. People can be incidental parts of the picture (an arm included in a picture of a bracelet) but nothing that could identify the person such as a tattoo or nametag. Also ensure the personally identifying information (address, license plate, business logo, documents, etc.) are not accidentally included as well.
Sound
For objects that make sound, record them in different contexts with different background noise. These recordings should be 30 seconds or less and not include understandable conversation (background noise of a large crowd would be ok). WAV format is preferred. Feel free to use photos and text to document these noisy objects as well. We want a mix.
You may receive an object that plays a recorded sound. If you accidentally record over it you may visit the VAST challenge GitHub page to download the correct recording.
Text
Text can set the context and provide more data about the objects and sound in this collection. This text could be a caption that goes with a picture or a social media type post describing the object. Text should be in a plain text file and limited to 300 characters and can include non-English text with a translation provided.
When You're Ready to Send
Thank you for helping us with this experiment in VAST Challenge data collection. When your collection is ready, please send it to vast.challenges@gmail.com. Please reference your packet number when you submit your collection.